Projekt mBridge -  u dnevnim deviznim tokovima digitalni juan izaziva dominaciju američkog dolara, dosegao je 7 trilijuna dolara i strmoglavo napreduje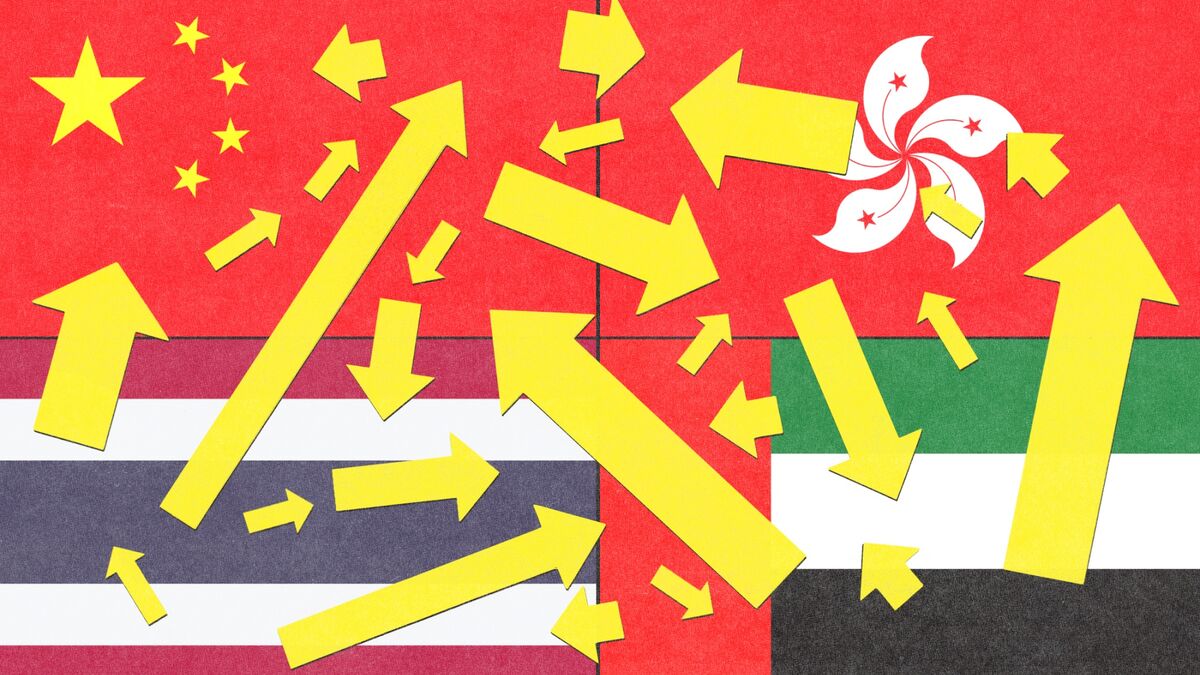 (Bloomberg) -- A new platform to expand the reach of China's digital yuan and other central bank digital currencies is moving closer to reality, raising eyebrows among some defenders of a system long dominated by the dollar.
The Beijing-backed digital prototype for sending money around the world without relying on US banks is advancing so quickly that some European and American observers now view it as an emerging challenger to dollar-denominated payments in global finance.
The mBridge project, which is being developed by China, Thailand, Hong Kong and the United Arab Emirates, will likely have a basic working product ready by year-end, four people familiar with the initiative said. It's a joint effort with the Basel, Switzerland-based Bank for International Settlements — a hub of global central-bank collaboration.
The stakes are enormous. The dollar features in an estimated $6.6 trillion of foreign exchange transactions every day, while half of the approximately $32 trillion in global trade each year is invoiced in dollars, according to BIS and United Nations data. mBridge could eventually make it easier for China's yuan to be used as a dollar alternative by enabling its digital form to settle large corporate transactions.
While the platform has been under development publicly since 2017, some American and European officials who monitor it are increasingly worried that it'll help give Beijing a head start using digital currencies to revolutionize wholesale payments across borders.
A digital alternative to dollar-based settlement, critics say, could make it easier to evade sanctions, taxes and rules on money laundering, while fragmenting global payments into competing systems that further kindle geopolitical tensions.
Josh Lipsky, director of the Atlantic Council's GeoEconomics Center, said it has "raised eyebrows" in Washington that mBridge is taking shape at the BIS.
"Taken in isolation it may seem strange because this project raises questions about China's ambitions to reduce reliance on dollar-based settlement systems," Lipsky said. "But China, like dozens of other central banks, is working with the BIS because this is where some of the most advanced research in the field is happening."
Ross Leckow, deputy head of the BIS Innovation Hub that's coordinating the project, said there's no timeline yet for an operational system after the current stage of development. The next step, he said, is to see if the prototype can turn into a minimum viable product.
Even so, mBridge is considered so advanced that the International Monetary Fund hosted discussions in April on how to bring such a critical platform eventually under the control and supervision of an international organization, according to people familiar with the matter, who asked not to be identified discussing private information. The IMF wants to avoid having the project morph from technical solution to geopolitical tool, one of the people said.
https://www.bloomberg.com/news/articles/2023-08-09/china-s-digital-yuan-mbridge-plan-challenges-7-trillion-dollar-dominance#xj4y7vzkg
---------------------------------------------------
BRICS-u nije porebna nova valuta nti nova cetralna banka.
Zahvaljujući blokchainu međudržavna plaćanja će biti obavljana preko nove platforme sa CDBC-ovima, zaobilazeći BIS i dolare.

crvenkasti







Posts

: 27469


2014-04-17




---
Permissions in this forum:
You
cannot
reply to topics in this forum