Page 4 of 4 •
1, 2, 3, 4
smiju li bijeli muškarci odlučivati o tijelu žena
"Adversity" Boost To Raise SAT Results For Some
The Wall Street Journal reports
that The College Board assigns a so-called "adversity" score to every student who takes the SAT to try to capture their social and economic background.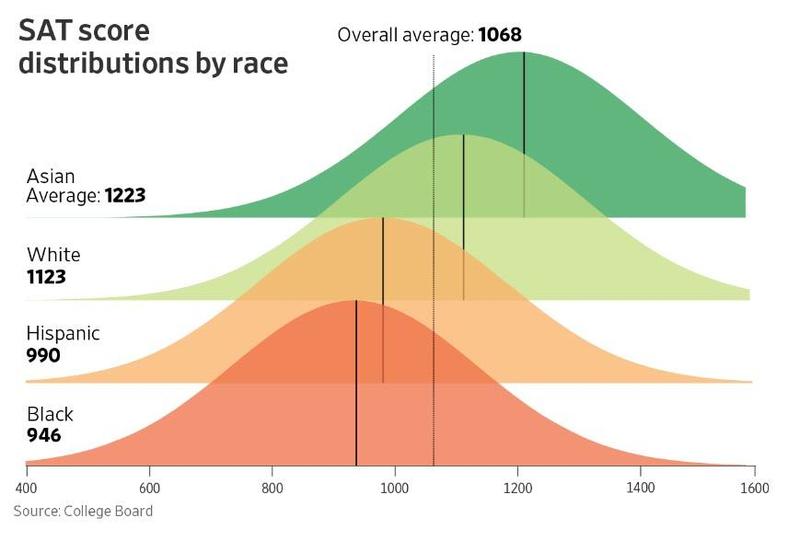 This 'disadvantage' score - seemingly designed to adjust for the facts that black Americans (see chart above) score on average 946 and Asian Americans score on average 1223 in the SAT - goes from 1 to 100. 1 is very disadvantaged and 100 is very advantaged. 50 is average.
The Adversity Score is calculated using 15 factors including the crime rate and poverty levels from the student's high school and neighborhood.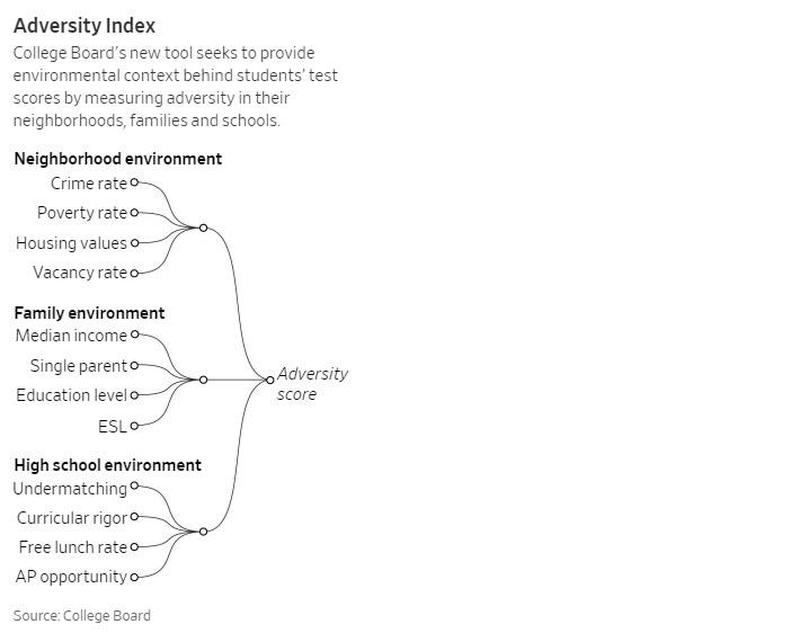 Students won't be told the scores, but colleges will see the numbers when reviewing their applications.
WSJ reports that fifty colleges used the score last year as part of a beta test.
The College Board plans to expand it to 150 institutions this fall, and then use it broadly the following year.
Yale University is one of the schools that has tried using applicants' adversity scores. 
 "This [adversity score] is literally affecting every application we look at," said Jeremiah Quinlan, the dean of undergraduate admissions at Yale.

   "It has been a part of the success story to help diversify our freshman class."
The College Board tried a similar effort two decades ago but quickly dropped it amid pushback from colleges, but the adversity score, by contrast, doesn't take into account race and is superior because it is steeped in more research, according to Connie Betterton, vice president for higher education access and strategy at the College Board.
However, with this Wall Street Journal article now confirming what many of us parents of college-bound kids have long suspected (and witnessed),
having all our hard work (childrens' commitments and effort as well as parents' work hours and cost of living) discounted by an adversity score seems neither fair nor good for any society that pretends to be meritocratic?
https://www.zerohedge.com/news/2019-05-16/american-except-ionalism-secret-adversity-score-bias-college-admissions-nationwide

Guest

Guest





pokajnik wrote:

How Genetics Is Changing Our Understanding of 'Race'

By David Reich, March 23, 2018

https://www.nytimes.com/2018/03/23/opinion/sunday/genetics-race.html

How to Talk About 'Race' and Genetics

By David Reich, March 30, 2018

https://www.nytimes.com/2018/03/30/opinion/race-genetics.htmlDavid Reich (geneticist)https://en.wikipedia.org/wiki/David_Reich_(geneticist)
Dysgenics
accumulation and perpetuation of defective or disadvantageous genes and traits in offspring of a particular population or species
https://en.wikipedia.org/wiki/Dysgenics
mislite da se ne igrate eugenike kad potičete retardirane, slabe, maloumne, a hendikepirate, sabotirate zdrave, inteligentne, sposobne?
Last edited by pokajnik on 5/17/2019, 13:51; edited 1 time in total

Guest

Guest





pa ni firme ne zaposljavaju na temelju meritokracije
ni vojska, ni policija
niko
a obrazovanje je ljevica vec odavno pretvorila u sprdnju

prckov




Posts

: 24040


2014-04-19





Guest

Guest





kršćanski bog uzvisuje slabe i bolesne, a ponižava jake i zdrave
rezultat će biti predivan

Guest

Guest





Nema druge nego vratiti se Odinu i Perunu

gargamel0101




Posts

: 3558


2015-07-23




Page 4 of 4 •
1, 2, 3, 4
---
Permissions in this forum:
You
cannot
reply to topics in this forum