"Svijet više nema nikakvog smisla". Ovu je objavio na Facebooku napisao Branko Gavrić, čovjek koji je prvi u Jugoslaviji objavio strip o Inkalu čime mi je otvorio vrata ozbiljne strip naracije i nepovratno me približio Moebiusu i Jodorowskom. To me definiralo i bez toga ja bih danas bio neki drugi ja. Brankova supruga Mirjana naglo je otišla i kao da njegova tuga nije bila dovoljna, danas Marko Fančović piše kako je dva tjedna nakon Mirjane, za njom otišao i Branko. Umire li čovjek od tuge? Ja to ne znam, no dopuštam si vjerovati da je tako. Ako sreća može biti pokretač života, onda tuga kao njezina suprotnost može biti odstranjivač razloga za postojanjem. Jednom sam napisao, ako tuga može biti prirodni uzrok smrti, nekima bi je trebalo upisati u povijest bolesti. Imam osjećaj da je s Brankom otišla i jedna od posljednjih velikih ljubavnih priča, jedna od onih kakve se većini ne događaju već im svjedoče sa strane kao nekom čudu. Branka nisam poznavao, ali mi se zbog toga danas čini blizak, kao da mi je bio prijatelj. Kao da sam ga razumio onako kako razumijem samog sebe.
(Zoran Zmiric)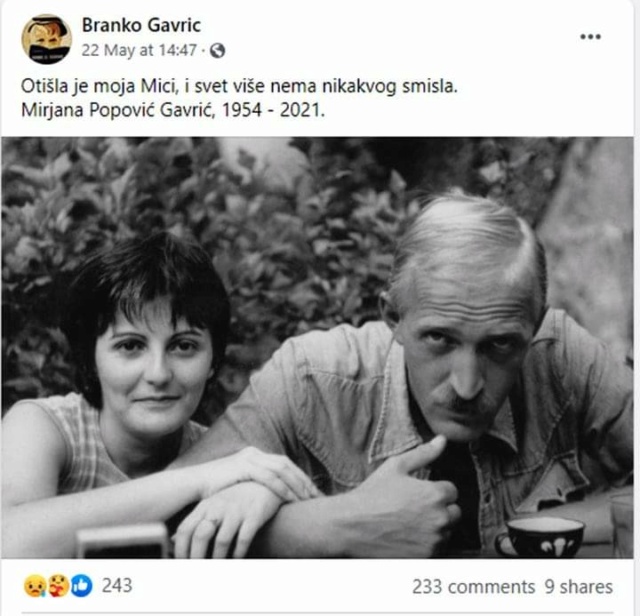 _________________
Sometimes suffering is just suffering. It doesn't make you stronger. It doesn't build character. It only hurts.
.
.

The trouble is that we have a bad habit, encouraged by pedants and sophisticates, of considering happiness as something rather stupid. Only pain is intellectual, only evil interesting....This is a treason of the artist: a refusal to admit the banality of evil and the terrible boredom of pain.

violator




Posts

: 665


2020-12-12



Lokacija:

: Jav/Middle-earth/Midgard



---
Permissions in this forum:
You
cannot
reply to topics in this forum